Fun Things to Do in Kelowna
A Guide for Newcomers
Are you visiting Kelowna or thinking of moving here? We love our city and the hundreds of possible posibilities to fill the day or evenings in the summer or winter.
Kelowna is located in a valley, and has a moderate climate that is unique in British Columbia. The average snow fall is just under 70 centimeters per year which allows us to enjoy fitness and many outdoor activities almost allyear round. For those that prefer inside entertainment, the city offers art, music, and culture.
Want to learn more about this dynamic area? Read on!
Okanagan Lake Activities
Okanagan Lake is considered by most to be the crown jewel of Kelowna. We love to visit the lake for fun in the sun. Recreational opportunities abound lakeside. Whether you prefer boating, jet skiing, or fishing, you can do it here!
· Boat/Jet Ski Rentals
Don't own a boat? You don't need one. Rent a boat and spend the day cruising the lake in style. You can explore our beaches and bays at your own pace and from a whole new point of view. Rent a jet ski, and you're guaranteed to have a blast!
· Boat Slips
On the other hand, boat owners will find several public boat slips along the shoreline. Spaces are available by the hour, day, or season. The marinas are often buzzing with activity and the center of the boater's social scene. You'll most certainly make a new friend or two!
· Scuba Diving
Okanagan Lake offers great dive sites for scuba enthusiasts of all skill levels. So, whether you are a beginner who needs lessons from one of several local scuba instructors on an expert diver, you'll find intriguing coves to explore.
· Fishing Charters
Okanagan Lake is teeming with fish! Catch your dinner out on our lake by trying a fishing charter. You'll likely have the opportunity for fish for trout, salmon, and bass. Delicious. In addition, the knowledgeable crew will guide you on your tour and make sure you keep it legal by advising you on local fishing regulations.
· Fishing Piers
Don't have sea legs? More of a Landlubber? Check out the many public fishing piers that dot the lakefront. There are also locations where you can fish from the beaches, but be sure to check out local regulations and fishing laws
Bicycling
To say that bicycling is a favorite sport in Kelowna is a huge understatement. We love bicycling, and our wonderful climate makes it possible to enjoy our favorite pastime for much of the year. Hop on and see it from our view!
City Bike Rental
The best part? You don't even need your own bike! The City of Kelowna offers a bike rental program that allows you to rent a bike on a per-use basis. Download the app on your cell phone. When you see the orange and white city bikes parted use your cell phone app to unlock and you are off for a fun ride around the downtown area and waterfront park.
The Okanagan Rail Trail project has taken the abandoned CN railway system and given it new life…as a bicycle trail. While it's under construction, several lengths of trails are currently already in use. These trails allow riders to explore the beauty of the area and encounter wildlife and scenic views in relative solitude.
The difficulty of the terrain varies from mountainous climbs to easily-navigated plateaus to exhilarating downhill rides. This variety makes it fun for those who want to give it a try!
· Bicycle Tours
A fun way to get to know Kelowna better is to splurge on a guided group bicycle tour. With a group of 8, you'll choose the destination that suits your interests:
Craft beer/pub crawl
Winery tours by bike
Discover downtown Kelowna
· City of Kelowna Bicycle Trails
If the challenge of the rail trail or bike tours, just aren't calling out to you, think about using your own bike to explore the City of Kelowna's extensive bicycle trails. They are family-friendly and less challenging to ride, especially if you have little ones with you. You'll find stops along the way including parks, playgrounds, scenic overlooks, and restroom. Pack a picnic in your backpack. You can make a day of exploration for the family.
Hiking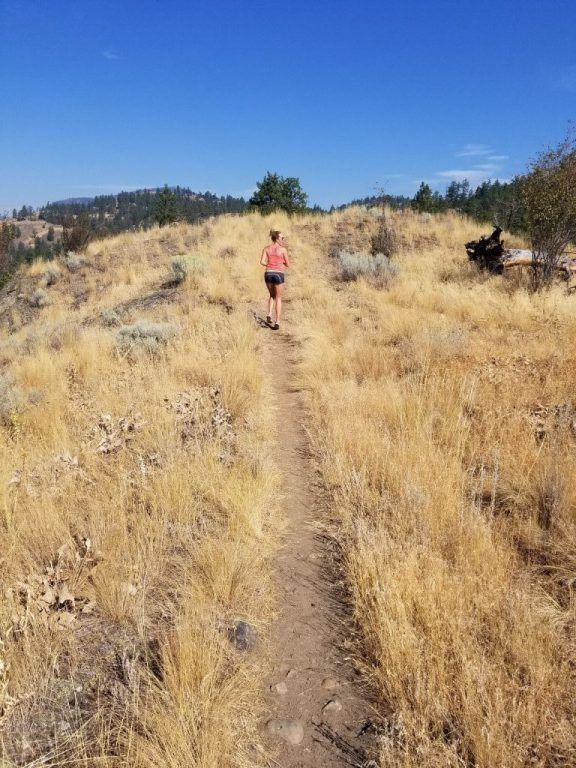 Knox Mountain Park.
Leave your car at the base of the mountain in Kelowna North. The entrance is Ellis Street and Broadway Ave. You can climb up the main road to the lookout points or hike the trails. Be prepared to share the path with the deer. Climb to the top of the mountain or take the trail along side Okanagan Lake out to Pauls Tomb for a dip in the lake. Fabulous views all the way.
Golf
Kelowna is a golfer's paradise. The difficulty of each golf course varies wildly based on whether the course sits on relatively level ground or is perched high on the side of a hill. The combination of steep local terrain and often persistent breezes make golf a challenge. Each golf course, of course, has its own distinct personality. Try it to see for yourself!
Private Golf Clubs
If you like the exclusivity of a private golf club, we have several in the area. These members-only golf courses are meticulously manicured, well-planned, and offer the best lake and mountain views in Kelowna. Most of them have dining facilities that offer the finest dining in the region.
Public Golf Courses
Public golf courses in Kelowna run the gamut from city-owned properties to those which are privately owned but open to the public. They are a great place to meet your new neighbours, make friends, and enjoy your favorite sport on a budget.
Golf Lessons
If you're interested in learning to golf, take a few lessons! Many of the privately-owned golf courses employ golf pros who can teach you the ins and outs of the game and help you learn to play the sport. Don't overlook the City of Kelowna Parks Department—they frequently offer golf instruction, but the schedule varies.
Winery Tours
The gentle Kelowna climate with cool nights and warm summer days creates the perfect environment for growing grapes. The end result? A region that grows lush and flavorful grapes that local vintners use to create craft wines. It's no wonder that Kelowna is one of Canada's hottest wine tourism destinations!
Okanagan Grapes
The grapes grown in the Okanagan are as varied as the climate—because of the climate. Therefore, the most successful wines in the area are both reds and whites, including:
Merlot
Cabernet
Pinot Gris
Chardonnay
Pinot Noir
Syrah
If you have a particular favorite, check the winery's website to find out their specialties. You really can't go wrong with our local Kelowna wineries. There are over 40 wineries in the Okanagan! Many new to the area enjoy spending weekends touring these wonderful wineries and trying to choose the top Kelowna winery. But the truth is, it's too hard to pick just one!
· Fruit Wines
In addition to grapes, some local wineries produce award-winning fruit wines. Just as grapes flourish here, so do apples, peaches, and plums. Vintners use this local bounty to produce some amazing wines for you to enjoy!
Craft Brewery Tours in Kelowna
Craft brewery tours of Kelowna are another favorite of new residents. Also referred to as micro-breweries, these brewers craft beer in small batches with strict attention to quality ingredients in order to produce the best flavors.
Many of these tours also have tasting rooms and menus to allow you to try pairing their beers with food. It's a fun way to grab a casual bite in your new hometown.
Microbreweries are abundant in downtown Kelowna, but you'll also find them dotted throughout the Okanagan Valley.
Cultural Arts
Are you more "indoorsy" or just love to partake in the cultural arts? Kelowna offers a vibrant cultural scene that will keep you engaged and feed your need for the arts.
Art Galleries
Downtown Kelowna hosts art galleries where you can explore local artist exhibits, rent studio space, or even take beginning painting lessons. You'll find the breathtaking Okanagan Valley to be the inspiration for—and the favourite subject of—many of our talented local artists.
Museums
The Okanagan region is also full of history. Our local museums share the stories of the area. They are dedicated to honoring the rich contributions of the indigenous people of the region, the historical significance of our area to British Columbia, and even have exhibits to celebrate the more recent history of our area.
These are all small museums that are easy to walk in an afternoon, even for those who want to take them in at a more leisurely pace.
Community Theater
If you love live drama, be sure to check out the Kelowna Community Theater. This small but active theater offers productions frequently throughout the year and is a very active professional community theater. Their productions rival those of any in the big city!
Scenic Helicopter Tours
One of the amazing ways to truly view Kelowna and area is with Valhalla Helicopters tours. Scenic, Heli Wine Tours or Wedding Events.
The Music Scene
Music lovers rejoice! The Kelowna music scene is vibrant and happening…right now! You'll find music of every genre in venues throughout our community. So, whether you like to rock and roll all night long, scoot your boots, or enjoy a soothing symphony, you'll find the music you love!
Music in the Park
In those treasured, warm summer months when you keep the windows open to catch the soft breeze, listen carefully. You might hear a soft chord of music drifting through the air. You're not hearing things, my new friends. You are hearing the Parks Alive! music program which brings musical entertainment to public parks throughout the area.
You'll find 47 of these family-friendly concerts annually. The performers cross all genres of music and provide entertainment for the community to enjoy. Our residents love these performances and make much ado over packing up the lawn chair or beach blanket and joining the fun!
Live Music and the Kelowna Night Life
Kelowna has too many friendly taverns and music spots to even begin to count them all! Kelowna locals love the local night life and especially love the live music venues. Many of these local watering holes host musicians, especially on weekend nights. Different taverns and pubs draw different styles of bands and crowds, making it a great experience for newcomers.
Okanagan Symphony Orchestra
Keeping the classical music tradition alive, the Okanagan Symphony Orchestra has entertained the area for 60 years. In addition to bringing classical music to new generations, they embrace new scores that delight even the youngest audiences…think Harry Potter.
The symphony has hosted some of Canada's finest musicians and even attracted top guest performers from around the globe, thanks to their continual commitment to their art.
The Local Parks
Last, be sure to take full advantage of the extensive parks system in the Okanagan. Our parks include a few beachfront properties, playgrounds for kids of all ages, baseball diamonds, soccer fields, amphitheaters, hiking trails, scenic overlooks, educational programs, and nature discovery centers.
In addition to those wonderful outdoor parks, the City of Kelowna offers aquatic centres and indoor gyms where your family can enjoy swimming all year long, take swimming lessons, or commit to staying fit...even during the colder months.
These resources and lessons are all free or low-cost to Kelowna residents. They are world-class facilities, right here in your new backyard. Beyond the scope of the amenities, our parks are the heart of our community.
The parks are where young moms and tots meet for daytime playdates, our children ride their bicycles with their friends after school, and families spend time for Sunday afternoon picnics. Whether you are a newcomer to the Okanagan Valley or moving around to a new neighbourhood, the local park should top your list of things to do in Kelowna.
Get Out and Enjoy the Variety of Things to Do in Kelowna!
Now that you've brushed up on some of the few activities that Kelowna offers, get out there! This "Things to Do in Kelowna" list is only a partial list of all the activities and amenities you'll find here. In fact, putting yourself out in the community will connect you with locals who can make even more recommendations that will make you fall in love with the Okanagan.