Mission Creek Trail Kelowna BC
Every year, Kelowna attracts thousands of visitors from around the world. If you want to be a little adventurous, the Mission Creek Trail is a sure bet.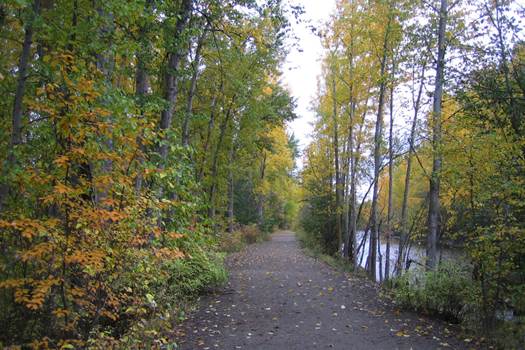 Trail Along Mission Creek

The Mission Creek Trail is about 27 miles (43 kilometers). It starts at Greystoke Mountain Range and ends at Okanagan Lake south of Kelowna Lower Mission. There're a couple of houses at the start, but the trailheads through a rocking query.
The trails can be used by cyclists who maintain a speed limit of 10km per hour. Since the creek is dangerous during runoff, you should stay at the trail at all times. You can also walk in either direction. And depending on your competency level, you can choose easy trails, intermediate trails, or difficult trails.
This trail accommodates mountain bikes and electric-assist bikes. You can make your stops at Upper Cathedral, Loki, Flyover County, Lower Cathedral, West Porcupine Passage, Valley West, Mission Creek Pkwy, and Astonishing bike path. Since the trail can be rough, a mountain bike single cluster can be helpful.
Kokanee Salmon
Kokanee Salmon spawn in Mission Creek from late August to mid-September. However, this depends on temperature and other environmental factors. Some Kokanee salmon have been found spawning in early February and late April. Once KoKanee salmon reaches 4-5 years old, they are ready to spawn.
There are many places where you can see the salmon runs. You should pay attention to lakes with wind-blown counts and narrow contour currents. And because they range from varying depths, you should use downriggers to assess where they reside. The creeks and rivers of the pacific west can be great to watch the spawning.
Horses
Mission Creeks Trails allow for horseback riding. All the rides take you through forested areas. Even if you're in the company of kids, the guide will match them with gentle horses that align with experience. Generally, the rides take 60-90 minutes, and the rates vary per individual. Many horse owners will use the trails also.
What can you see along the trails?
The trail transverses through the beautiful landscapes of Kelowna - you'll find picnic areas, an educational center, and a salmon spawning channel. Furthermore, you can see the ruins of the old stone ranch house. If you're an outdoorsy person, you'll admire the beautiful views of the Mission Creek close to Mission Recreational Park. Since the trail is open throughout the year, you have no reason to miss the adventure.
Real Estate Close BY
If you are looking for a home close to the trail