Capital News Centre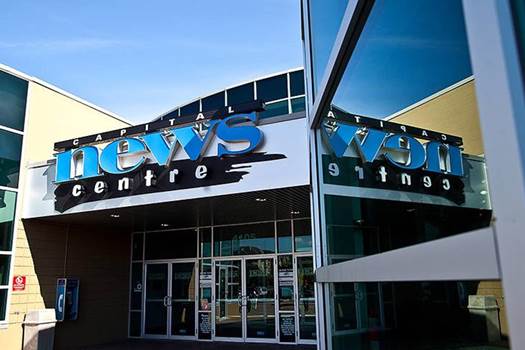 The Capital News Centre also known as The CNC, is a sports, fitness, entertainment and dining hub with state-of-the-art skating, gym, soccer, golf, baseball and track facilities in Lower Mission near downtown Kelowna, British Columbia.
Whether its a junior tournament, adult recreational hockey leagues, fun skating on the public rink, exercising or playing without skates, reading or relaxing at Okanagan Regional Library or watching the Canucks, Whitecaps or Lions on TV at Boomer's Bar and Grill, the Capital News Centre has something fun for you and your family.
Location
The Capital News Centre is located at 4105 Gordon Drive in the Lower Mission neighborhood of Kelowna. It is nearby, a short walk from, Okanagan Lake about seven kilometers south of downtown Kelowna. Or a 10 minute walk to Michael Brook Golf Course
Activities
Hockey - Capital News Centre and Planet Ice features two NHL-size rinks. There are leagues and programs for youth, men, women, co-ed and seniors. It's also home to the Kelowna Speed Skating Club.
Skating - The Mini Rink is open for public skating seasonally.
Soccer - There are two indoor, full-size, field-turf pitches with youth, men's, women's and co-ed leagues.
Fitness - Capital News Centre is home to Mission Fitness Centre with workout gyms, an indoor track and fitness classes.
Batting, golf, shooting cages - Be it for fun or training, there are cages for baseball, softball, golf or hockey players.
Library
Kelowna Mission B.C. Library is part of the Okanagan Regional Library. It's located inside Capital News Centre.
All library programs are free. Membership is free.
Library events include S.T.E.A.M. (Science, Technology, Engineering, Arts, Math) and story times for kids and book club and knitting for adults. There are also sign language classes, online and virtual activities and other arts and crafts events.
Skating
The public Mini Rink is open to skating seasonally. There are drop-in times and "Stick and Puck" times for open and available times on the two hockey rinks. Anyone looking to reserve ice time can go to BuyIceNow.ca and go to Planet Ice.
Capital News Centre is affiliated with the Kelowna Skating Club and the Kelowna Speed Skating Club.
Indoor Soccer Fields
The Capital News Centre is home to the Pacific Adult Soccer League. It hosts adult recreation leagues for men, women and co-ed teams.
It's part of the Central Okanagan Youth Soccer Association for players and clubs from U7 to U18.
Mission Fitness Gym
Mission Fitness Gym is a state-of-the-art fitness center with a wide array of workout equipment, professional trainers, an indoor track and fitness classes to help anyone achieve better health and fitness goals.
There are membership options available. Discounted memberships are available to those already in hockey or soccer leagues at Capital News Centre.
Capital News Centre is also home to Lifemark Physiotherapy sports medicine clinic in Lower Mission.
Indoor track
The indoor walking and running track at Mission Fitness Gym is open to gym members.