Coffee With Andy Kelowna Market Update for October 17,2023
Posted by Andrew Smith on Tuesday, October 17, 2023 at 8:03 AM
By Andrew Smith / October 17, 2023
Comment
Demand slowing down as we enter 4th quarter
There were 25 residential sales recorded last week, which is down from the 30 we saw the week previous. The Average price last week was 1,043,000, which is a little low. There is nothing really to be concerned or excited about with such a small sample size.
So far this calendar year, we've recorded 1,719 residential sales. At this point last year, we were at 2,075, a 17% decrease in volume. Soft landing? Correction? Resetting back to normal? Take your pick on how you want this explained, but the demand for housing is clearly decreasing, and anyone who has taken Economics 101 knows this usually leads to price drops.
There were 15 apartment sales last week, which is down somewhat from the 17 recorded last week. With 525 apartments for sale right now, we're in buyers' market territory, which is a blessing for those looking to enter this market. There are about 25 condo units for sale under $300,000, so getting into this market isn't too out of reach.
Compare the September Kelowna Market Update to the October Report
Next week, I'll write more about BC's new short-term rental rules, effective May 2024. This will affect Kelowna and West Kelowna homeowners who use AirBnB or other vacation rental companies. The rules appear to be very draconian, especially for people who buy a rental unit solely for using it for short-term rentals.
Experience the Vibrant Kaleidoscope of Fall in Kelowna
Kelowna, is a mesmerizing destination throughout the year, but visiting or moving here in October adds a special touch to the experience. As the leaves turn brilliant shades of red, orange, and gold, the city and its surroundings offer a range of compelling activities and attractions that make it an excellent choice for your next adventure or home. Here's why Kelowna is a must-visit in October 2023:
1. Fall Foliage Extravaganza: Kelowna's natural beauty peaks in October. Take strolls or hikes along the picturesque trails that wind through vineyards, orchards, and parks. Witness the valley's landscapes transformed into a captivating tapestry of fall colours, providing the perfect backdrop for photography and outdoor enjoyment. Biking on the Kettle Valley Tressels is a great way to view the fall colors.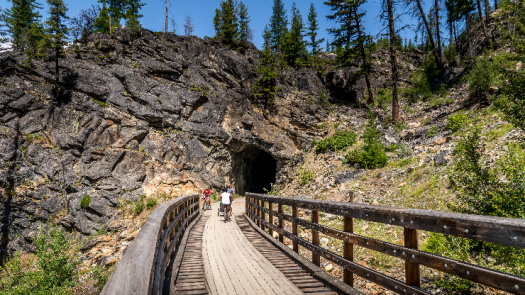 2. Wine and Culinary Delights: The Okanagan Valley, often called the "Napa of the North," is home to numerous wineries and vineyards. October is harvest time, and it's a chance to participate in grape picking, wine tasting, and indulging in exquisite local cuisine. Kelowna's farm-to-table restaurants offer various seasonal dishes that perfectly complement the region's world-class wines.
3. Outdoor Adventures: Kelowna covers you if you're an outdoor enthusiast. Explore the city's stunning surroundings with activities like mountain biking, paddleboarding on Okanagan Lake, or hitting the links at its renowned golf courses. October's mild weather is perfect for these adventures without the scorching heat of summer.
4. Cultural Riches: Kelowna boasts a thriving arts and culture scene. Visit local galleries, theatres, and museums to immerse yourself in the region's history and artistic expression. October often sees special exhibitions and performances that showcase the community's creative spirit.
5. Festivals and Events: October is a month of celebration in Kelowna. Enjoy the Kelowna International Film Festival, the annual Okanagan Tattoo Show, or the Harvest Cultural Festival, which showcases music, dance, and food from various cultures. These events offer an opportunity to connect with the vibrant community and immerse yourself in local traditions.
6. Family Fun: Kelowna is also a family-friendly destination. Take your kids to places like Kangaroo Creek Farm or the Kelowna Corn Maze for hours of entertainment. The Halloween season brings spooky festivities, including haunted houses and pumpkin patches.
Kelowna, BC, is a dream for those seeking a blend of outdoor adventure, cultural enrichment, and natural beauty. Whether you're considering a visit or a permanent move, this charming city in the heart of the Okanagan Valley promises a memorable and rewarding experience. Embrace the magic of autumn in Kelowna, and you'll soon discover why this city is a hidden gem in Canada.
Please email or call with any questions, we can meet for coffee or have a zoom call.
Best Regards,
Royal Lepage Kelowna

Lifetime Award of Excellence

Kierra Smith,

2x Olympian